Screen printing is a printing technique that uses a woven mesh to support an ink-blocking stencil. The attached stencil forms open areas of mesh that transfer ink or other printable materials which can be pressed through the mesh as a sharp-edged image onto a substrate. A fill blade or squeegee is moved across the screen stencil, forcing or pumping ink into the mesh openings for transfer by capillary action during the squeegee stroke.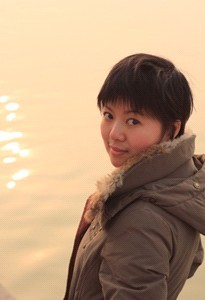 Curriculum Vitae
1981 Born in Nanjing, China
2004 Dept. of Decoration, Design College, Graduate of Nanjing Art Institute B.A.
2011 Dept. of printmaking, Academy of Fine Arts, Nanjing Art Institute M.A.
Collections
2012 Hei Longjiang Art Museum - China
2010 Istanbul Ex-libris Museum - Turkey
2010 Tianjin Ex-libris Museum - China
Awards
2010 Bronze Award - 13th National Mini Prints & Ex-libris Exhibition - Beijing, China
2010 Honorable Mention - 5th "CONTRATALLA" International Bookplate Biennial - Spain
2009 Excellent Work - National Mini Prints & Ex-libris Exhibition of Young Artists - China
Selected Exhibitions
2012 32nd Mini Print International of CADAQUÉS - Spain
2011 8th British International Mini Print Competition - Britain
2011 31st Mini Print International of CADAQUÉS - Spain
2010 30th Mini Print International of CADAQUÉS - Spain
2010 33rd FISAE International Ex-libris Competition – Turkey
2009 National Mini Prints & Ex-libris Exhibition of Young Artists – China